A Heartwarming Note Reveals How Much a Lesbian Couple's Rainbow Flag Meant to Their Young Neighbor – Newsweek
A lesbian couple in Texas found out their example of Pride had a profound effect on a young neighbor.
On Wednesday morning, Sal Stow stepped outside her Williamson County, Texas, home to pick up some packages. While there, she noticed a note under a rock on the doormat.
"Hello, you don't know me," the note started. "We're moving away today but I wanted to thank you. Seeing a Pride flag waving so proudly outside your house every day has given me the courage to come out to my family and be more comfortable with who I am."
Stow shared her discovery on Facebook.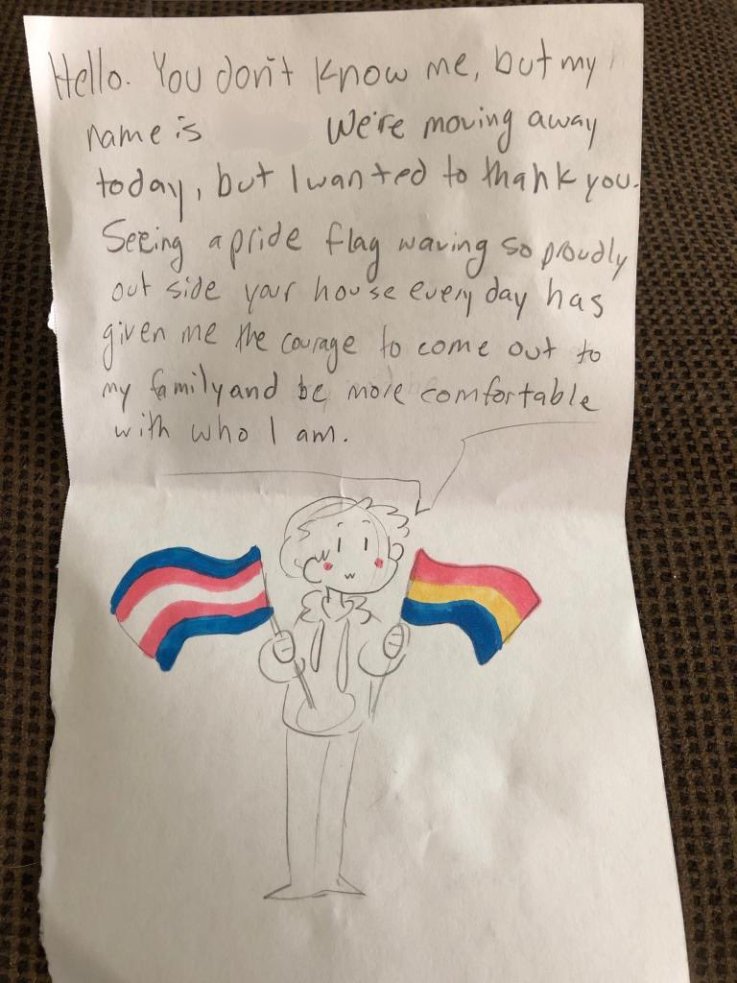 In a note left on their doormat, a neighbor of Sal Stow and Meghan Stabler revealed how much their flying rainbow flags meant.
Sal Stow
"This is why visibility is SO important," she wrote. "You never know who needs the support and to know it's ok. I hope this person is ok, their family is being supportive and they find a community to connect with that can help them through this brave process."
She ended her post by saying she was "proud of who I am and the person I love. I will continue to be visible in whatever way I can."
Both Stow and her wife, Meghan Stabler, are active in LGBT advocacy. Stabler, who is transgender, serves on the board of directors of Planned Parenthood.
While Austin is considered a nugget of progressiveness, Williamson County is not. Stabler told LGBTQ Nation she has neighbors who are Trump supporters and conservative Christians. Just yesterday, the county commission voted unanimously to ban the Pride flag from being flown atop the local courthouse.
The flags in the drawing left on the couple's door represent the transgender community and the pansexual community. The original rainbow flag, designed by San Francisco artist Gilbert Baker in 1978, has frequently been adapted and updated.
"LGBTQ visibility matters," Stabler tweeted on Wednesday. "I proudly fly [two] rainbow flags at my home. You never know who needs the support, who is hiding and needs a lift up."
LGBT youth are at much higher risk of suicide and homelessness. More than 70 percent report feelings of worthlessness, depression and hopelessness in the past week, according to a 2018 HRC survey, and 67 percent reported hearing family members make negative comments about LGBTQ people. Nearly half (48 percent) say their family tries to make them feel bad about their gender identity or sexual orientation.
Extensive research has found that support at home and community is essential for the long-term wellbeing of LGBT youth.